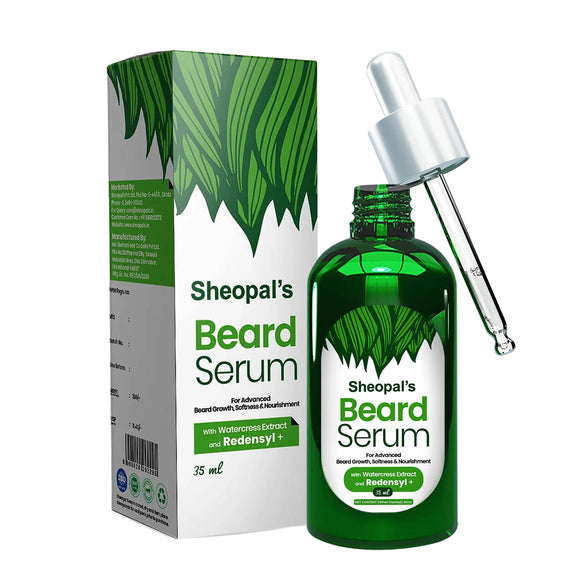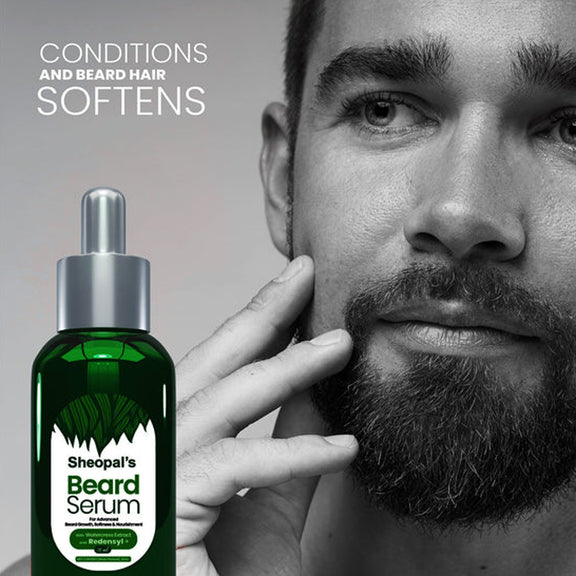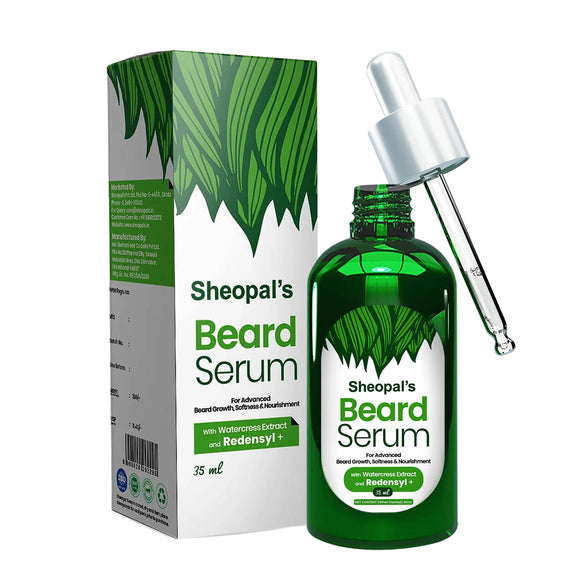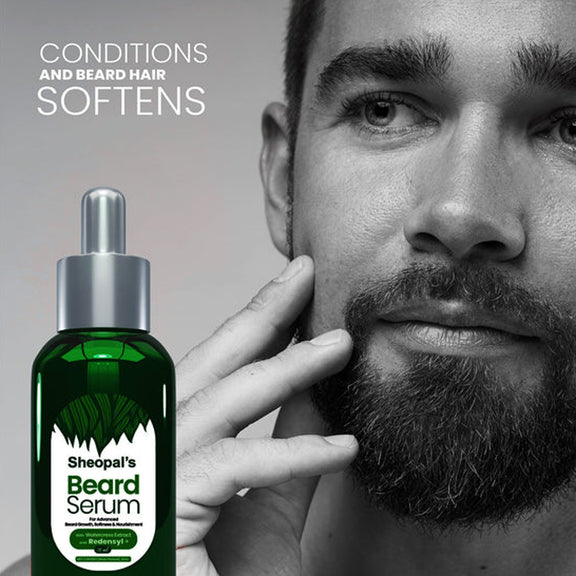 Beard Growth Serum with Redensyl
Trusted by 1 Million+ Happy Customers
Deal Of The Day
Benefits of Sheopals Redensyl Beard Serum
Reduces beard dandruff & itchiness
Enhances hair growth
Makes beard hair soft & smooth
Nourishes & moisturizes your hair
Enhances Beard Colour
Reduces patchiness in the beard
Regular price

Rs. 399.00

Sale price

Rs. 349.00

Unit price

per
13% OFF
Guranteed Dispatch Within 24 hrs
Beard Miracle
Redensyl serum is a true miracle for bearded men. My beard has transformed, and the results are beyond impressive.
Beard Game Strong
This serum has taken my beard game to a whole new level. The growth is remarkable, and the softness is unparalleled.
Beard Bliss
Using this serum has been a blissful experience. It's improved my beard's texture, eliminated itchiness, and boosted growth.
Worth Every Rupee
Investing in this serum was a smart decision. Beard feels great, and the growth is noticeable. No more dryness or itchiness.
Beard Confidence
I'm more confident with my beard now, thanks to this serum. The itchiness is gone, and the growth has improved significantly.
Q1.

What is Sheopal's Beard Serum and what does it do?
Ans: Sheopal's Beard Serum is a unique and non-sticky serum that is specifically formulated to promote beard growth, while making your beard smooth and soft. Plus, it is infused with Redensyl, a powerful ingredient that helps to stimulate hair follicles and promote healthier, thicker beard growth.
Q2.

How often should I use the Sheopals Beard Serum?
Ans: For better results, use Sheopal's Beard Serum regularly. It will help you in keeping your beard look and feel its best.
Q 3.

How do I use Sheopals Beard Serum?
Ans: Wash your face and pat dry your beard with a towel. Before use, make sure to shake the bottle well. Then, take a few drops of the serum into your palm. Rub your hands together and spread the serum on your palms & fingers and gently massage it onto your beard. Make sure you cover your entire beard from the roots to the tip for best results.
Q4.

Is Sheopal's Beard Serum suitable for all skin types?
Ans: Yes, Sheopals Beard Serum is designed to work well with all skin types. But, if you have any specific skin issues or worries, it's a good idea to try a small amount on a patch of skin first or talk to a dermatologist before using it on your entire beard area.
Q5.

Does Sheopals Beard Serum have any side-effects?
Ans: Sheopal's Beard Serum is safe and gentle and there are no side-effects. But if you notice any problems like redness, itching, or rashes, stop using it instantly. If needed, reach out to a dermatologist for advice.
Q6.

Can I use Sheopals Beard Serum if I have sensitive skin?
Ans: Yes, Sheopal's Beard Serum is designed to be gentle. But if you have sensitive skin, it's a good idea to try a patch test first. Just put a little on your wrist or behind your ear and wait for 24 hours to check for any reactions.
Q7.

What is Redensyl, and why is it important in Sheopals Beard Serum?
Ans: Redensyl is a special ingredient that helps stimulate hair follicles and enhance beard hair growth. It's particularly beneficial for growing a fuller beard, which is why it's a key component in Sheopal's Beard Serum. Redensyl is made up of pure plant extracts and its side-effects are usually zero.
Q8.

Does Sheopals Beard Serum help with patchy beard growth?
Ans: Yes, Sheopals Beard Serum contains Redensyl, which can stimulate hair follicles and may help promote new hair growth in patchy areas.
Q9.

Can I apply Sheopals Beard Serum after using beard oil?
Ans: Yes, you can apply Sheopal's Beard Serum after applying beard oil. The serum's lightweight, non-sticky formula is designed to absorb quickly without leaving a greasy residue.
Q10.

Is Sheopal's Beard Serum vegan and cruelty-free?
Ans: Yes, all our products are vegan and cruelty-free.