Get Free Piles Care Diet Plan; Worth Rs. 1000/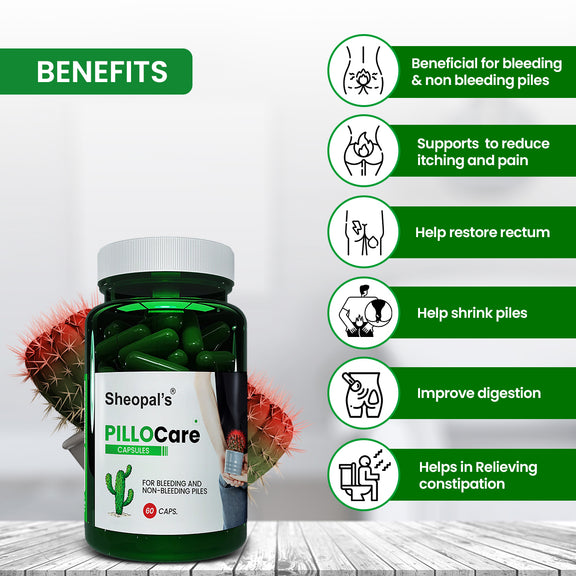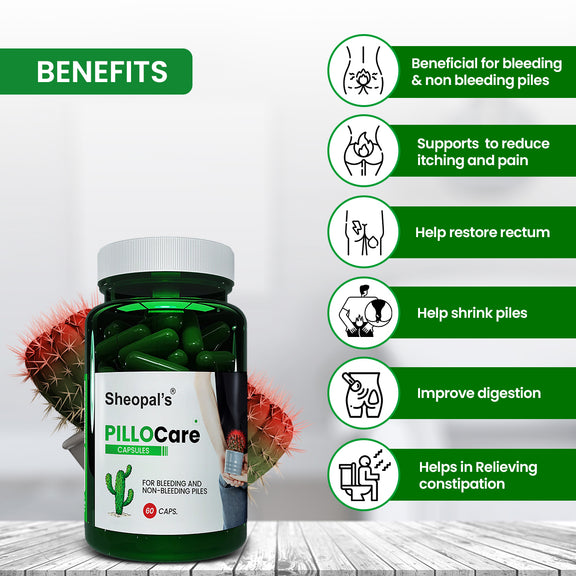 Pillocare: Relief from piles & constipation
Trusted by 1 Million+ Happy Customers
Deal Of The Day
Sheopals Pillocare Capsules Benefits

Helps to regulate bowel movement.

Relief from constipation
Helps in reduce swelling
Improves digestion
Helps to relief from severe pain
Helps to relief from all piles symptoms
Regular price

Rs. 1,995.00

Sale price

Rs. 899.00

Unit price

per
55% OFF
Prepaid To Get Extra 10% Discount
Get Free Diet Plan Worth Rs 1000/ On Email After Purchase
Trusted Natural Remedy
When it comes to piles care, I trust Pillocare. It's a natural remedy that truly works.
Digestive Comfort Achieved
Pillocare has helped me achieve digestive comfort. It's a reliable solution for maintaining a healthy gut and preventing digestive issues.
Piles No More
Say goodbye to piles with Pillocare. It's effective, safe, and the results are impressive.
Consistent Digestive Support
Pillocare provides consistent digestive support. It's my go-to solution for maintaining a healthy digestive system.
Pain Begone
If you want your piles pain to disappear, try Pillocare. It worked wonders for me.
Reetha
It is a natural cleaner that aids in the reduction of inflammation and swelling in the hemorrhoidal veins.
Katha
It has astringent and anti-inflammatory properties that help reduce swelling and inflammation of the hemorrhoidal veins.
Giloy
It helps to treat constipation issue which is the main cause of piles. It is a powerful anti-inflammatory herb that reduces hemorrhoid inflammation and relieves pain.
Trikatu
It is a combination of three powerful herbs: black pepper, long pepper, and ginger, which aid in digestion and reduce constipation, which is a common cause of piles.
Triphala
It aids in the treatment of constipation by softening the stool, allowing it to pass easily into the anus and avoid itching around veins.
Sangjarahat Bhasma
This is a type of mineral-based medicine. It has a choleretic and cold effect that is extremely effective at halting bleeding.
Dharuhaldi
It is a healing plant. Daru Haldi is another name for Dharuhali. It alleviates pain and inflammation.
Nagkesar
It may help in the treatment of bleeding piles by pacifying pitta dosha, resulting in a balance in the body's heat. Nagkesar may aid in the reduction of pile lumps, as well as the reduction of inflammation, pain, and bleeding.
Nimboli
Neem has anti-bacterial, anti-inflammatory, and pain-relieving properties that reduce the swelling of wart piles and relieve pain by killing the bacteria.
Q1.

How do Pillocare capsules help with piles?
Ans: Pilohem capsules are a unique formulation of advanced Ayurvedic herbs that work together to provide fast relief from pain and swelling, reduced pile mass size, and bleeding relief in a few days - all without surgery. Pillocare capsules are made from Ayurvedic herbs which help with piles by reducing inflammation, soothing discomfort, and promoting healthy blood circulation in the affected area, which can lead to relief from piles symptoms.
Q2.

What are the key ingredients in Pillocare?
Ans: Reetha, Katha, Triphala, Sangjarahat Bhasma, Trikatu, Dharuhaldi, Nagkesar, Nimboli and Giloy are the key ingredients in Pillocare capsules.
Q 3.

How long does it take to see results with Pillocare?
Ans: Results vary from person to person, but you get relief from piles symptoms within a few weeks of consistent use.
Q4.

Are there any-side effects of Pillocare?
Ans: No, Pillocare is made from natural and ayurvedic ingredients and does not cause any side effects.
Q5.

How should I take Pillocare for best results?
Ans: Take one capsule twice a day, or as prescribed by your physician.
Q6.

Is Pillocare safe for long-term use?
Ans: Yes, Pillocare capsules are safe for long-term use because it is made from natural and Ayurvedic ingredients, which are gentle on the body and do not cause any harm.
Q7.

Can Pillocare help with both internal and external piles?
Ans: Yes, it helps to cure both internal and external piles
Q8.

How is Pillocare different from other piles treatments?
Ans: Pillocare stands out from other piles treatments as it offers a non-surgical approach to treating piles. It is unique because it is made from all-natural ingredients and is completely safe & effective.
Q9.

Are Pillocare capsules 100% natural?
Ans: Yes, Pillocare capsules are 100% natural & Ayurvedic.