Get Free Health Consultation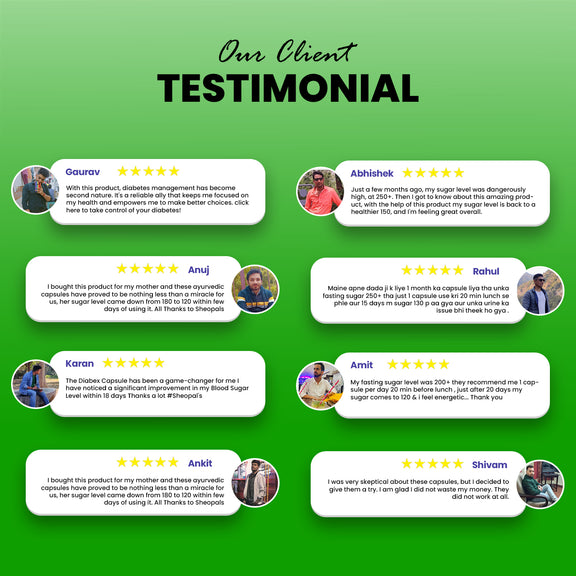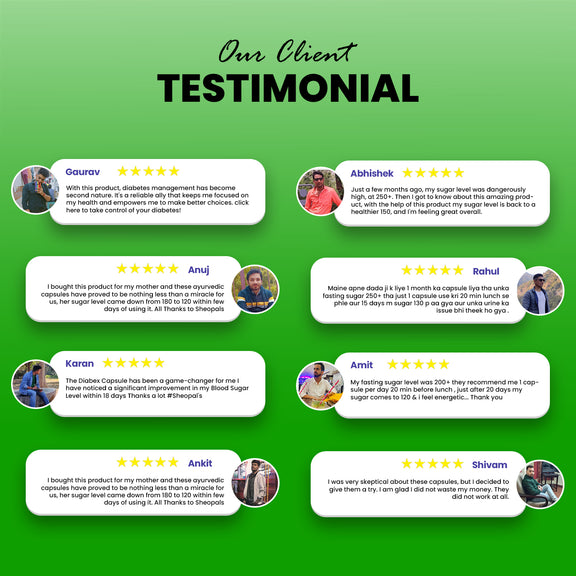 Herbal Diabdex Capsule to Control Diabetes and Regulate Blood Sugar Level
Trusted by 1 Million+ Happy Customers
Best Seller
Sheopals Herbal Diabetes Capsule Benefits
Reduces fatigue and increases energy
It helps to control blood sugar level
Provides relief from frequent urination
Helps to control both Type-1 & Type-2 diabetes
Regular price

Rs. 2,184.00

Regular price

Rs. 2,590.00

Sale price

Rs. 2,184.00

Unit price

per
16% OFF
Prepaid To Get Extra 10% Discount
Get Free Consultation From Our Health Expert Post Puchase
Customer Testimonial
Kiran
It's been two months since I started using this diabetes ayurvedic capsules and I'm absolutely impressed! I've seen a significant decrease in my sugar levels.
Kapil
Highly recommended. Definitely try these capsules if you are suffering from diabetes. Its shows best and quick results.
Prakash
Packing ✅ Delivery ✅ Product use ✅ this ayurvedic diabetes capsules is amazing. I recommend it to people with diabetes.
Vijay Shankar
I'm so thankful for the Sheopals Diabdex capsules, which have greatly reduced my reliance on regular insulin injections.
Bhagya
I'm so glad I decided to try this ayurvedic capsules. Diabetes has been such an obstacle in my life, and I'm so thankful for this natural, holistic approach to managing it.
Raman
For diabetic patients, this is the best medications, and natural way to treat diabeties and control blood sugar levels. I can say this from my own experience.
Kavita
These Diabdex capsule work well for me to manage blood sugar with no side effect and The best thing about these capsules is that they are made from Ayurvedic ingredients.
Ramlal
Highly recommended. Definitely try these capsules if you are suffering from diabetes. Its shows best and quick results.
Raghu
I'm pre-diabetic, I've been taking Sheopals Diabdex Capsules as recommended by a doctor friend and my sugar levels have already dropped from 140 to 120!.
Suman
After trying this Diabdex capsule, I finally saw a improvement in my blood sugar level.
Best product
This product has been my go-to solution for diabetes management. It's an intelligent assistant that helps me stay proactive and achieve my health goals. click here to unlock the potential of modern diabetes technology!
I used to worry constantly about my diabetes, but this product has given me peace of mind. It's a comprehensive tool that keeps me informed and in control. click here to experience the difference!
diabetes management has become second nature.
With this product, diabetes management has become second nature. It's a reliable ally that keeps me focused on my health and empowers me to make better choices. click here to take control of your diabetes!
Good Product and Ayurvedic ingredients
I bought this product for my mother and these ayurvedic capsules have proved to be nothing less than a miracle for us, her sugar level came down from 180 to 120 within few days of using it. All Thanks to Sheopals ...
Karela
Karela, aka bitter gourd, is a superfood that offers immense health benefits, especially for those suffering from diabetes. It helps in controlling blood sugar levels, lowering cholesterol, and improving insulin resistance.
Methi
Seeds of fenugreek are rich in fibre and minerals such as iron and magnesium. It also contains galactomannan, an amino acid that helps in slowing down the absorption of sugar in the body.
Gudmar
It has antioxidant and anti-inflammatory properties that protect the cells of the pancreas from damage caused by free radicals and increases insulin secretion, thereby lowering blood sugar levels.
Vijaysar
it helps to control blood sugar level but also reduces weight, promotes digestion, and various health issues.
Chirayata
This herb helps in regulating insulin levels and managing diabetes.
Jamun
Their powerful antioxidants help to improve immunity, regulate blood sugar levels and overall health.
Shilajit
Studies have shown that regular consumption of Shilajit can help reduce blood sugar levels and improve insulin sensitivity. By regulating blood sugar levels, Shilajit can help reduce the risk of developing diabetes and its complications
Saptrang
It is known to lower blood sugar level and HbA1C levels in patients with type-2 diabetes
Q1.

Can I take Diabdex capsules without a doctor's consultation?
Ans: While it may not be required, as it is formulated with safe and effective ayurvedic ingredients but it is always advisable to talk to a health expert/doctor before starting new ayurvedic medicine for sugar.
Q2.

Does it help to manage both type 1 and type 2 diabetes?
Ans: Yes, it contains ayurvedic ingredients that help manage both type 1 and type 2 diabetes effectively.
Q 3.

Will Diabdex force me to produce too much insulin?
Ans: No. Diabdex is designed to help your body produce insulin in the quantity it needs, promoting a balanced and regulated insulin response.
Q4.

How long will it take to give me complete relief from diabetes?
Ans: The time for complete relief varies based on the severity of the condition. We generally recommend completing a 3-month course for optimal results.
Q5.

Is it effective for high blood sugar?
Ans: Yes. These capsules effectively control high blood sugar levels, providing an efficient solution for diabetes management.
Q6.

Can I take a Diabdex capsule with my other diabetes medication?
Ans: Yes, as it is made from ayurvedic ingredients, there are no known side effects. However, it's advisable to consult with your healthcare provider before combining it with other diabetes medications.
Q7.

Are there any side effects from long-term use?
Ans: No. It is completely safe for long-term use.
Q8.

Is there any age limit for diabetic patients to take this medication?
Ans: Yes, medicine is safe for any diabetic patients who are above 18 yrs but person below 18 years are not advisable to take this.
Q9.

Any special diet plan to get faster relief.
Ans: Yes, connect with our health expert to receive a personalized diet plan tailored to your condition for faster relief. You will get free diet plan with this product.
Q10.

Why is Sheopals Diabdex an effective ayurvedic medicine for diabetes?
Ans: Sheopal's Diabdex works well because it combines potent Ayurvedic ingredients that are known to manage diabetes. This special blend helps control blood sugar levels and supports overall health in a natural way.